Get Your FREE QUOTE Today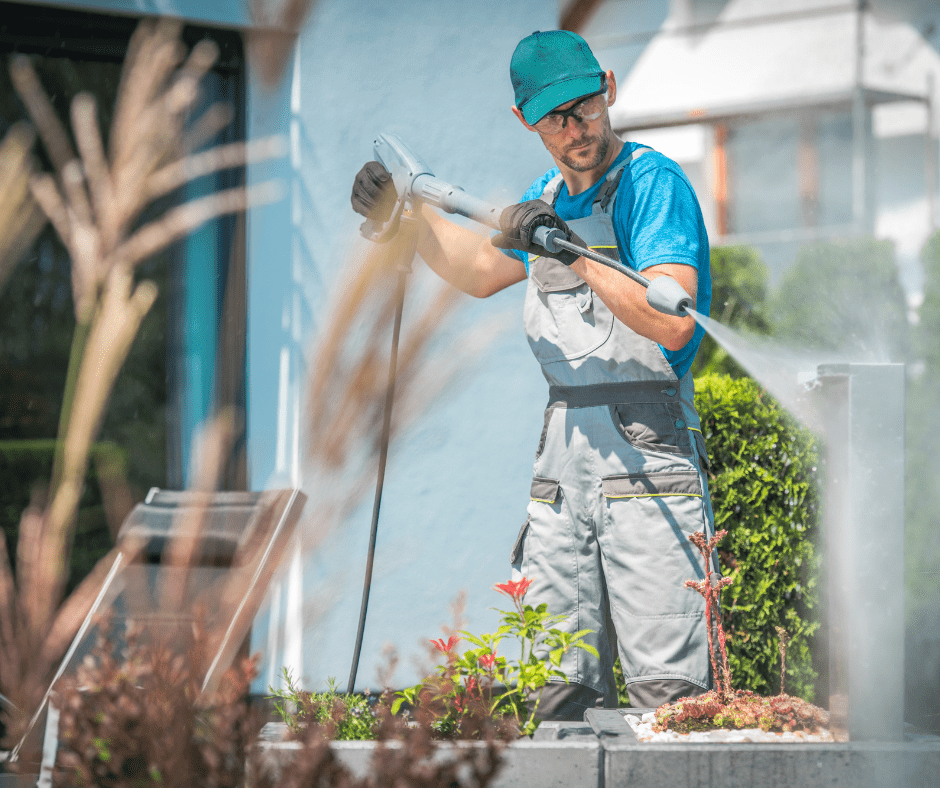 Have you suddenly realized the siding on your house is a different color than it used to be? It's highly unlikely that someone in the neighborhood came by and repainted your home's exterior while you were asleep. What is much more likely is your siding is covered in dirt and grime from the weather and the plants and trees around your home. Mother Nature likes to mess around with the exterior surfaces of houses on a pretty regular basis. She sees a beautiful house with vulnerable siding and goes to work creating a huge and hard-to-clean mess! Pollen from nearby flowers and trees can coat your siding in a sticky yellowish residue that can be unsightly and virtually impossible to remove on your own. Freshly cut grass can leave greenish stains around the lower edges of your siding, every time you mow your lawn. Everything in your yard and on the roads around your home can cause issues for your siding. That's where we come in. Wash America provides high-quality pressure washing house services for all the times Mother Nature throws one of her classic temper tantrums and wrecks the cleanliness of your home's exterior.
Your home is one of the biggest investments you have ever made. It's the place where you raised your kids and, possibly, the place where you were raised. Your home is the place your family comes to relax and spend quality time together. At this point, it has become a part of the family itself. Most people put their best foot forward when they leave. Additionally, if you are having a gathering inside of your home, most likely, you spend days before the big event cleaning the inside of your home. You want it to be absolutely perfect when your guests arrive. However, many people forget the exterior of their home. People make a first impression of things within the first few seconds of being exposed to something. Do you really want the exterior of your home to be the first impression that people have of you and your family? If the outside of your home is dirty and stained, people may think the inside looks similar.
Oftentimes, people will try to save money by utilizing the DIY option. While the decision to go DIY was made with good intentions, the damages caused can be detrimental to the exterior of your home. Certain materials only respond to certain treatment types. For example, you do not want to use high PSI when cleaning exterior surfaces such as stucco because stucco is a softer material than brick. Additionally, using too high of PSI when cleaning wood or siding can cause holes to form. These holes can allow water to seep under the siding and this can cause wood rot in the materials under your home's exterior covering. Once the mold and mildew from wood rot begin, it is only a matter of time before the extensive damages occur. Save yourself the time and hassle, as well as some hard-earned cash, and give us a call today. Our team of experts is professionally trained to identify the proper cleaning method that should be used on your home's exterior.
Call our House Wash Pros Today!
Get a free estimate on our services
Give your home the tender loving care it deserves, and protect your biggest investment, with our Wash America high-quality professional pressure wash house cleaning services. Our team of house wash professionals has worked with every type of house on every type of cleaning job any homeowner could have for them. Wash America's expert team of house cleaners can tackle your home's cleaning needs too. They are highly trained and experienced in the art of delivering the best clean around for your home, a clean that up until now you have only dreamed about. Let us make your clean home dreams into a reality by calling us today!
Your home's exterior is the first thing your neighbors and visitors see when they pull up to your home. It's your chance to put your best foot forward, especially if you live in an area with a Homeowners Association. When your home's exterior is looking down in the dumps and you find yourself researching "house washing near me" on your favorite search engine, give us a call. With our high-quality cleaning supplies and expert team of pressure washers, Wash America can give you everything you need for residential power washing house and more! Once you see what our services can do for you and your home, you will never want to go anywhere else for all your home exterior pressure washing needs. Don't forget to add us to your contacts. Now you have the best professional pressure washers on your side to help you fight back against Mother Nature. When we win against Mother Nature, you and your home do too! Give us a call and let us fight for you and your home with a beautifully completed clean, done right the first time.